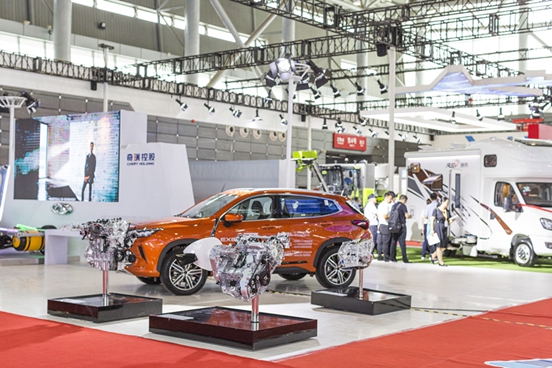 On September 20-23, 2019 World Manufacturing Convention was held in Hefei of Anhui Province. As one of the representatives of China's high-end manufacturing industry, Chery Holding Co., Ltd. exhibited 15 of its mainstream products at the event and presented a number of black technologies including autopilot, hydrogen fuel and intelligent linking, thus showcasing China's strength in intelligent manufacturing.
Before the opening ceremony, government officials and VIP participants from home and abroad stopped in Chery booth to experience latest results of Chery's R&D and innovation efforts in the past two decades and more.
The 400m2 Chery booth was located in High-end Manufacturing Zone in the main exhibition hall. Echoing with the event theme "intelligent manufacturing", Chery not only exhibited models that represent its latest manufacturing strength, but also the core parts and components and forward-looking engines that are based on its solid technological foundation. All these exhibits are characterized by high end, new energy and intelligent linking, etc.
Models exhibited by Chery came from various Chery brands, including passenger vehicles, commercial vehicles, special vehicles, traditional fossil fuel vehicles and NEVs. Examples of these exhibits included LX, the second mass-production model Chery's high-end EXEED, Chery's most popular all-new generation TIGGO8, X70S EV as the first BEV SUV model of Chery's JETOUR series, Dolphin EV which is the 2G BEV logistics vehicle featuring positive development of commercial vehicles, and REV that "expands life in travels".
In these exhibits, you can find the latest Lion system, which is Chery's cloud and intelligent link system, and experience the many black technologies of the brand including face recognition, AR enhanced real-life navigation, intelligent semantic recognition system, and smart appliance IoT. Even more, you can see latest research results made by Chery in facilitating lightweight materials and new energy power. For example, Chery New Energy exhibited LFS high-strength aluminum-magnesium alloy smart vehicle platform, which uses lightweight frame. 93% of the body frame applies aluminum-magnesium alloy, weighing only 94.4kg or 40% less than the weight of conventional vehicles. It can be lifted easily by two adults.
The robust power provided by China-made engines has always been one of Chery's core competitiveness. In terms of traditional power, Chery's 3G engine, CVT25 AT and SQRD4D20 aero engine are three pillars of Chery power. Among them, the 3G engine, developed by Chery on its own, provides 90.7kw/L power and 38% thermal efficiency, taking a leading position in China. The CVT25 is Chery's 2G 9-speed AT, which is one of the World's Top Ten Transmissions for 2019. Its transmission efficiency is 92.5%, 7% lower than the fuel consumption of the first-generation vehicle. It is now 14% quicker to accelerate to 100km/h. The SQRD4D20 aero engine is a general-aviation piston engine adaptable to various oils, which can use a variety of international aviation kerosene and automotive diesel. It has been equipped on a general-purpose aircraft to complete the first flight test.
While making continuous progress in traditional power, Chery has made breakthroughs in the forward-looking power, especially hydrogen fuel technology, which can be applied in multiple transport means such as automobiles and ships. Chery exhibited the 3G FCEV, model of China's first hydrogen fuel cell ship, principle model of FCEV and hydrogen energy cycle components developed on its own. Among them, Chery's 3G FCEV is equipped with a 30KW stack, which can be refilled with hydrogen in three minutes. One hydrogen refilling ensures more than 700km driving mileage. Chery's hydrogen fuel ship is equipped with two 155kw metal plate stack hydrogen fuel cells developed by Chery on its own. With load capacity of 1,000t,