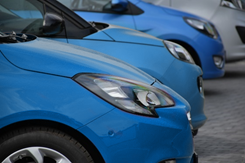 A focus on efficiency
The automotive industry is developing increasingly efficient internal combustion engines using innovative low-friction components. These advances have meant that modern engines are able to use oils that are much less viscous than was previously possible. Low HTHS (High Temperature High Shear) lubricants further improve the efficiency of these engines by allowing components to move more freely without compromising lubrication and wear protection.
WOLF OFFICIALTECH 0W20 LS-FE has been engineered to bring out the best in these modern engines, with Opel the latest to join a list of manufacturers that recognise the lubricant's advantages. Using an innovative blend of excellent quality base oils and additives, the product delivers efficiency and lubrication for a wide range of gasoline and diesel Opel engines. This formulation also eliminates the risk of LSPI (low-speed pre-ignition), a serious concern for downsized, turbocharged gasoline direct injection (TDGI) engines.
Broad applications and future-proofed formula
WOLF OFFICIALTECH 0W20 LS-FE is intended for gasoline- and diesel-powered passenger cars and light vehicles that require a lubricant with a HTHS value of around 2.6 mPa.s. This includes Opel's turbo 1.0-litre, 1.4-litre and turbo 1.5-litre gasoline engines as well as some diesel engines, like the CDTI 1.6-litre, all of which come with 0W-20 as factory fill. These engines cover some of the brand's most popular vehicles in Europe, such as the Opel Astra (J and K) and Insignia models. WOLF OFFICIALTECH 0W20 LS-FE is also suitable for Opel's current and future hybrid models, including the 2020 Grandland X plug-in hybrid electric vehicle (PHEV).
The Opel OV0401547 standard, created in November 2018, is equivalent to General Motors dexos D specification – also known as GMW18006, dexos2 Gen2 or OVEO DG. Wolf Lubes has followed Opel's lubrication requirements closely, under both General Motors and PSA Group, enabling it to swiftly introduce an approved engine oil to the European market.
Volker Clasen, Sales Engineer, Wolf Lubricants, explained: "As the Official Lubricant Partner of the WRC, our lubricants are tested in some of the most challenging conditions imaginable. Our motorsport partnerships and experience help to inform the way we develop our lubricants, engineering products for performance and efficiency to meet ever-changing market demands. A key aspect of this pursuit is achieving OE approvals, conclusively demonstrating the quality of our products to distributors and technicians. Having worked closely with Opel to meet its rigorous requirements, we are excited to  promote WOLF OFFICIALTECH 0W20 LS-FE. Significant trends in automotive technology, like the prevalence of downsizing and turbocharging, have had a substantial impact on lubricant formulation and development. We were able to rapidly adapt to this shift and are now equally prepared for the lubrication challenges posed by increased adoption of hybrid vehicles."