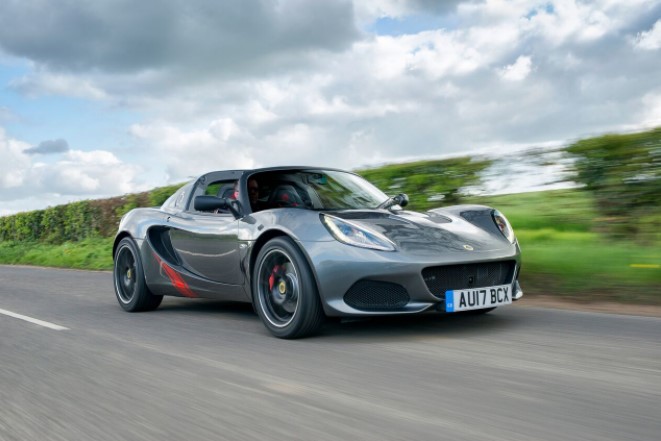 Despite its straight-line speed, the Lotus Elise has been declared by What Car? as the slowest depreciating performance car on the market – retaining more of its purchase price than rivals. Excellent news for buyers, and with five-star reviews of the latest Elise Sport and Elise Sprint now published, it shows there's never been a better time to find out what makes this Lotus so special.
With depreciation the single biggest ownership running cost, and some rival performance models losing owners a small fortune in the first years of ownership, the Elise's strong values mean it's a wise choice for those buying the car outright or opting for a great-value finance package.
Beating the very best that competitors can muster, buyers' bible What Car? rates the Elise as top in class, retaining up to 95% of its price after 12 months and over 54% of after four years with average mileage. In addition to besting similarly priced sports car, including the Porsche Cayman, What Car?'s data shows the Elise also trumps exotic rivals, like the Ferrari 458 Italia.
Jean-Marc Gales, CEO, Group Lotus plc said, "At Lotus we design and build our cars to be the best, from the quality of the engineering to the experience from behind the wheel. We're second to none in refining the very definition of a sports car. Rivals may have six-figure price tags, no other is as intuitive or involving as a Lotus. The great news is that you'll enjoy all the raw performance and sublime handling that the Elise has to offer without the fear of high running costs. The latest Elise is the best yet, and we know that a new generation of buyers are going to love it."
Since its introduction, nearly 33,000 Elise have been hand built at the company's famous Hethel factory, every one epitomising Lotus founder Colin Chapman's vision of efficient engineering. Hailed as the greatest car of a generation, combining pace, agility and a purity of purpose, it has also received the Readers' Champion as part of the prestigious Autocar Awards.
Steve Huntingford, Editor of What Car? said, "Depreciation is generally the biggest cost of car ownership. But, aside from limited-run specials, the Elise holds its value better than any other car. This makes it a surprisingly affordable long-term ownership proposition and a sports car that you can buy with your head as well as your heart."