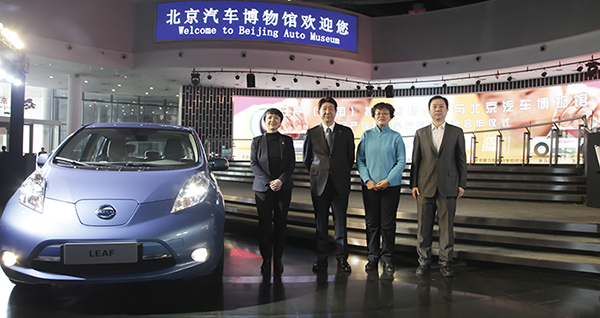 In March, Nissan China and Beijing Auto Museum signed a strategic cooperation agreement to introduce the Nissan Dream Classroom curriculum to the area. Additionally, Nissan donated a first-generation Nissan LEAF to the museum to help educate people about the benefits of electric cars. Suzuki Akihisa, executive vice president of Nissan (China) Investment Co., Ltd. (NCIC), the leaders of the Beijing Auto museum, and the strategic partner of Nissan Dream Classroom participated in the event.
Nissan Dream Classroom was developed by NCIC based on an existing social responsibility project of Nissan Motor Co., Ltd. Following the STEAM (science, technology, engineering, the arts and mathematics) education concept, it presents science and automotive knowledge to primary school students in China. Established in 2013, Nissan Dream Classroom has been held for primary school students in more than 10 Chinese cities, benefiting more than 75,000 students.
Cooperation with Beijing Auto Museum represents the growth and popularity of Nissan Dream Classroom. It completes the expansion of offering the course to a school – and then to a society. In the near future, Nissan Dream Classroom Open Class will be held in Beijing Auto Museum on a regular basis. On the day of the announcement at Beijing Auto Museum, 41 students attended the Nissan Dream Classroom "Design" course – a new program jointly developed by NCIC and Nissan Design China (NDC).
At the signing ceremony announcing the parenteship, Nissan China donated a first-generation Nissan LEAF to Beijing Auto Museum. As a long-term display project, it will enhance Nissan's leading position in the electric vehicle field by introducing the history and advanced technologies of Nissan electric vehicles.
After the class, representatives of NCIC Culture Ambassadors introduced Nissan's initiatives on environmental protection, as well as communicated the features and the advanced technologies of the Nissan LEAF to students.