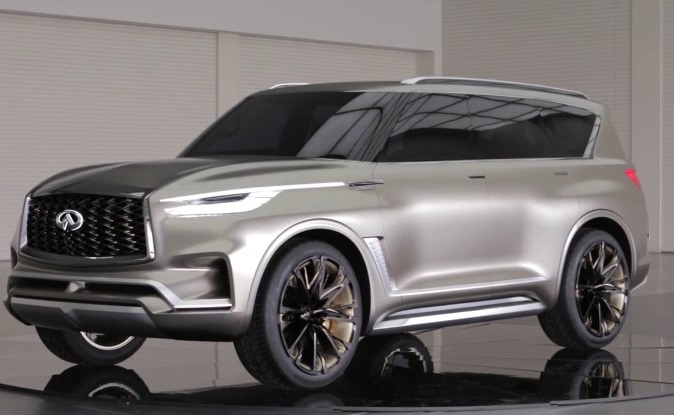 The QX80 Monograph combines luxury with a commanding presence, and demonstrates the high levels of space and utility for which the QX80 production car is renowned. It illustrates how the design of INFINITI's large SUV could evolve in future. Originating at INFINITI's design studio in Atsugi, Japan, and unveiled for the first time in New York, the QX80 Monograph is the ultimate expression of futuristic luxury SUV design.
"The QX80 Monograph represents a detailed study into our expertise of exterior design. QX80 Monograph shows our concept of luxury and style on the road, and is an exploration into how we could enhance our future INFINITI offering in the luxury SUV segment."
The QX80 Monograph hints at a forward-looking new design for INFINITI's flagship large SUV. The concept applies the brand's latest design language in a sculptural and artistic way, incorporating a mix of geometric and organic shapes to combine power with elegance, creating a commanding and sophisticated presence.
The QX80 Monograph is over five meters long, almost two meters tall (including roof rails), and more than two meters wide (door mirrors folded). It appears longer thanks to defined character lines, in particular the strong, straight shoulder line that runs from the grille all the way to the rear of the car.
The headlamps extend into thin lights that wrap around the front corners of the hood and run along the wings, for a unique light signature from the front and in profile. The light bars running along the front wings end in sculptured rear-view cameras at the leading edge of the two front doors.
The face of the QX80 Monograph appears more powerful and purposeful, with large, functional fender vents delivering more air to the engine, flanking an aluminum chin guard. Enhancing its SUV credentials, an underbody cover runs the length of the floor, protecting the car's undersides and aiding aerodynamic performance.
A thin strip of aluminum below the grille emphasizes the car's width and incorporates razor-sharp LED fog-lamps at each end for a modern, high-tech appearance. At the rear, defined horizontal lines highlight the car's wide and powerful aura. The appearance of the sharper, thinner tail-lamps are mirrored in the wide twin exhausts, which feature a gloss-black aerofoil in between to encourage smoother air flow off the back of the car.